Flames Cryo Jets and Streamers
Fireworks Australia has broad capability and expertise across a range of stage special effects. We use only premium parts and material suppliers. The full range of equipment is certified, and quality inspected before being sold or used at an event. All electrical systems are tested and tagged. A single type effect can be used, or we can combine any of them to make your event fabulous.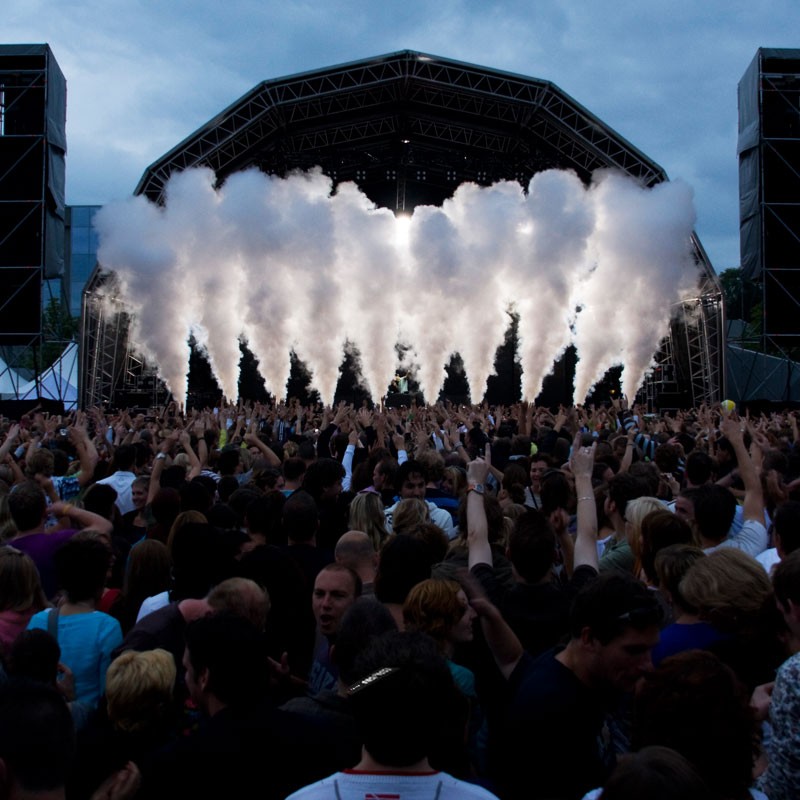 Flames
Fireworks Australia has a few flame machine options.  There are systems that can shoot coloured flames indoor and with various angles to about 5m high.  These machines are DMX controllable and very reliable.  The next level is a system that can also shoot a 5-finger flame array but now it will reach up to 10m high!  Also, this system can shoot all 5 angles at the same time!  This system is DMX and wireless controllable.  Finally, we have a system that shoots a height controllable 8m flame, is battery powered, DMX or wireless controllable and is full programable. The flame systems have many safety controls and checks.
Cryojet (CO2 Jets)
These are jets of liquid CO2 which after it is squirted from the nozzle becomes a white mist.  It looks very similar to a CO2 fire extinguisher.  The effect has been used on many movies and concert stages.  The gas is non-flammable and very safe in a reasonable vented area.  The system can be DMX or power switch controlled and is quick to install.  Fireworks Australia uses very high-quality jets and switches that wont lock on when frozen.
Streamers and Confetti
The traditional streamer and confetti gag has been given a technology uplift.  Fireworks Australia can provide your event with a full range of options.  These include single tube devices, that can be electrically fired and wirelessly controlled, to large scale arena guns.  There are many options.  We even have hand held multishot streamer machine guns which are popular with DJ's and live performers.  The streamers and confetti materials are available in various papers or shining material or in special biodegradable and water-soluble pieces.  We have love heart and rose petal confetti for our brides too.
Many of these effects can be installed and operated by you the consumer with our help.  The more complicated installations can be handled by our efficient technicians.  Whatever your requirements are we can find you a high quality and great value option.
Professional event managers are welcome to talk to us about hardware dry hire and crew training.
The Fireworks Australia display team use the worlds best technology and have a system to deliver a quality event.